Project Scope Management Notes PMBOK6 -Part 1
Free PMP Flashcards and Notes on Project Scope Management of PMBOK6
Card : 1
The process of creating a scope management plan that documents how the project scope will be defined ,validated, and controlled
Card : 2
Provides guidance and direction on how scope will be managed throughout project.
Card : 3
The process of determining, documenting and managing stakeholder needs and requirements to meet project objectives.
Card : 4
Provides the basis for defining and managing the project scope including product scope
Card : 5
The process of developing a detailed description of the project and product.
Card : 6
It describes the product; service or result boundaries by defining which of the requirement collected will be included and excluded from project scope
Card : 7
The process of subdividing projects deliverables and project work into smaller, more manageable components.
Card : 8
Provides a structured vision of what has to be delivered
Card : 9
The process of formalizing acceptance of the completed project deliverables.
Card : 10
Increases chance of final product, service, or result acceptance by validating each deliverables
It brings objectivity to the acceptance process
Card : 11
The process of
monitoring the status of the project and product scope
managing changes to scope baseline
Card : 12
It Allows scope baseline to be maintained throughout the project
Card : 13
The feature or Function that characterize a product, service, or result
Completion of Product Scope is measured against "Product Requirement"
Card : 14
The Work to be performed to deliver the product, service, or result with the specified features and functions
Completion of Project Scope is measured against "Project Management Plan"
Card : 15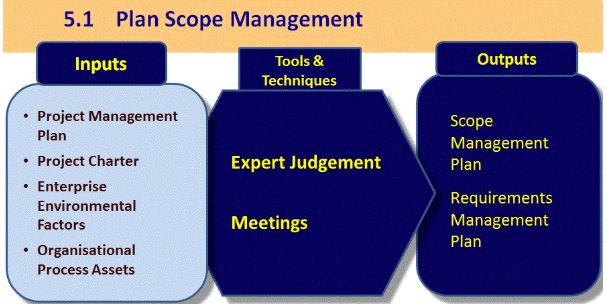 Card : 16
Project Charter
Project Management Plan
EEF
OPA
Card : 17
Card : 18
Scope Management Plan
Requirement Management Plan
Card : 19
 Approved subsidiary plans of the project management Plan
Card : 20
It provides
Project Context for planning
High-level project description and characteristics from Project statement of Work
Card : 21
Component of Project or Program Management plan
It describes how scope will be defined ,developed, monitored, controlled and verified
It's a input to Develop Project Management Plan
Card : 22
Is a component of Project Management Plan
Describes how requirement will be analyzed ,documented and managed
Card : 23
Scope Management Plan
Related Notes And Flash Cards
Other Free Training Materials Available
Currently viewing : 1210